"Bonded Logistics Park" service :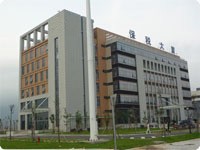 Free Trade Zone and Bonded Logistics Park is the highest level of the opening up economic area , with independent planning , policy and operation . December 26 , 2008 official launch the sealed off trial operation of the Guangzhou Bonded Logistics Park , for the opening of this business , will completely replace the previously existing " outside day tour " phenomenon . When goods of domestic enterprises get into the park is regarded as export , you can apply for a tax rebate , the processing of carry-over and domestic re-importing can be completed in the park. Goods implementation single declaration , inspection and released as fast clearance , and also can free circulate in this region , does not levy value-added tax and consumption tax . Bairun Express is a company that register in the logistics park that both have free trade zone and bonded logistics park license management manual records , which can provide customers with the free trade zone and bonded logistics park's logistics services .

business advantages:

First . Equipped with more than 5.5 thousand square meters of multi on Bonded Logistics Park warehouse ( including single floor warehouse on the ground, multilayer composite multi function warehouse,Thermostatic warehouse, etc. ) ; Second. Equipped with professional "Bonded Logistics Park warehouse management system" software ; Third. Configuration directly to the customs, inspection and quarantine declaration " Chinese electronic customs system , Ninetowns inspection system " ; Fourth. Clearance site set up a " Ministry of site clearance services". Fifth . Warehouse has 24-hour security system and real-time monitoring, to ensure the safety of the goods ; Sixth . To provide " turn off at Guangzhou airport, import and export between Mainland and Hong Kong, transit remote customs zone" multi-channel interaction services .