Red wine supply chain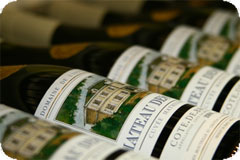 "Red wine supply chain" service is what we set up in 2009 as the special import services for the red wine import clients that provide professional financing, wine display, wine import agent, wine customs inspection, record labels, wine thermostatic storage (bonded and common warehousing) and wine distribution and a series of supply chain services.
We play to the geographical advantages of Guangzhou Free Trade Zone, integrating ourselves services advantages, hand in hand with buyers, suppliers, logistics providers work together to build a set of logistics and business flow, information flow, capital flow in one as the wine interactive trading platform. On one hand, reduce foreign wine supplier of the initial costs for entering China; the other hand, to provide a convenient purchasing platform for domestic wine buyers to reduce costs and the risk on the backlog.